How To Write A Press Release For A Book
So, how does this help us?
A book press release is a means by which you showcase your book to journalists and news organizations in an interesting manner.  Basically, you're doing the work for the journalist or news publication by writing it for them.  The best news is (pun intended) that most will actually accept the same news story that others have accepted, which is aptly known as mass syndication.
So, all you need is one good press release for your book and you're set.  Simple, right?
What Makes a Great Press Release?
To write a successful press release you have to be newsworthy. Simply writing a book[2] is not news. So, what are some of the ways you can spice up your book press release?
A shocking or captivating author story
A unique or fascinating book topic
A rare or prestigious book award won
An impressive or intimidating milestone
An unconventional promotional effort
An endorsement or link to something/someone famous
Tying in your book with a "buzz" concept, e.g., millennials, gluten free, or any other "hot topic" that a journalist will see and think "yeah, people will click that."
Now that you've got an understanding of what goes into a stellar book press release, let's look at a generic example that didn't work, and one that did that wasn't so generic.
Sometimes It Just Doesn't Work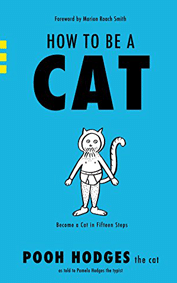 For this article, we created our own example.
Using a standard package from PR Web, we created a generic Press Release by PR Web for an incredible book by Pamela Hodges called "How to Be a Cat[3]."  This book is so fun and catchy that some of my favorite authors like Marion Roach Smith, Joe Bunting, Jeff Goins, and Steven Pressfield gave incredible endorsements.
But, guess what…the Press Release did nothing.  It was picked up by only 4 syndicates and resulted in no direct increase in sales. $99 dollars down the drain.
So, what does this prove?
Even if you've got an amazing, super cool book that famous writers love, a generic press release under a generic package will do no good.
But let's see what happens when a twist of news occurs and a Press Release is the cause for major bank!